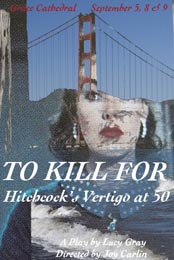 TO KILL FOR
* Members of Actor's Equity Association
Robert Sicular
Robert Sicular, a Bay Area native, first appeared on stage at the tender age of three, when he portrayed an Eskimo child in a community theater production. Encouraged by loving parents, Robert continued his forays into the world of performance all through his school years, but it was when he attended Berkeley High School, that his passion truly blossomed. His performing in such diverse plays as "The Hostage", "The Madwoman of Chaillot", "Marat/Sade", and "Who's Afraid of Virginia Woolf" set the stage for a career that has spanned decades and distance. At the University of California at Berkeley, he studied under the great William Oliver and performed in a great variety of roles. Then he went to study for a year at the London Academy of Music and Dramatic Art, and upon returning to the States, commenced his professional career in earnest. He has appeared at the Berkeley, San Jose, Saint Louis, South Coast, and Seattle Repertory Theatres, ACT in San Francisco, The Denver Center Theatre Company, Actors Theatre of Louisville, Marin Theatre Company, and the California, San Francisco, Lake Tahoe, Santa Fe, and Oregon Shakespeare Festivals (where he was a company member for eight years), and the Shakespeare Theatre in Washington, DC. All told, he has performed in over eighty productions of Shakespeare portraying such roles as Hamlet, Richard II, Petruchio, Brutus, Marc Antony, Sir Toby Belch, Malvolio, Orlando, Jaques, Touchstone, Leontes, Nick Bottom, Henry IV, Iachimo, Hubert de Burgh, and many, many more. In addition to his love of performing the classics, Robert has always carried a great enthusiasm for new works and has participated in numerous world premiers. His on-screen credits include recurring roles on "General Hospital" and "The Young and the Restless", a featured part in the Bollywood potboiler "Dil Pardesi Ho Gaya (My Heart Has Become a Foreigner)", and a starring role in the Sci-Fi Action Comedy Thriller, "Never Die Twice". On stage he was most recently seen in ACT's production of "Tis Pity She's a Whore" and will appear later this fall in Marin Theatre Company's "The Seafarer".
Trish Mulholland
Trish is a graduate of the National Theatre Drama School in Australia. She was a top-rated radio announcer in Australia and Europe and has worked in theatres around the Bay Area including the Aurora Theatre, ACT, and the SF Shakespeare Festival. Trish is a member of Berkeley's Shotgun Players and has twice been nominated for BATCC Awards. Favorite roles include Mother Courage, Agave, and Woman in Albee's Play About the Baby. Trish most recently played Mrs. Warren in Mrs Warren's Profession (Shaw) at Shotgun's Ashby Stage.
Jessa Brie Berkner
As an actor, Jessa has appeared in The Countess (as Effie Ruskin), a role for which she received the Shellie Award for "Outstanding Actress". Other roles include Abbie in Eugene O'Neill's Desire Under the Elms (Outstanding Actress nominee) and Suzanne in The Marriage of Figaro, for which the cast was awarded "Best Ensemble" by the Bay Area Theater Critics' Circle. Recent work also includes Aurora Theatre's Marius (as Fanny), the world premiere of Trevor Allen's Tenders in the Fog (Shanachie/Banshee) at SJ Stage Co., and Vincent In Brixton (Eugenia) at TheatreWorks. Apperances in the Bay Area include work at ACT, Marin Theatre Co., SFShakes, SJ Stage, Marin Shakes, the B St. Theatre, and over six productions with TheatreWorks. She performed and trained with Teatro del Viccolo in Reggio Emilia, Italy, and appeared in the devised piece Van Gogh at The Mint in N.Y. She recieved an Emmy for her work as the Virtual Host "Tilde"of TechTV , a Dean Goodman Award for Tenders in the Fog, and premiered in the short film Ball Lightning written by Barry Gifford (Wild at Heart, Lost Highway), an official selection of the Locarno Intl. Film Fest., Switzerland. She is currently Performing Arts Coordinator and Drama Instructor at Oakland Technical High School, where she recently produced and directed the documentary film Exposition, and adapted Zora Neale Hurston's novel Their Eyes Were Watching God for the stage.
Keith Burkland
Keith Burkland has resided in San Francisco for thirty years and has performed with numerous Bay Area theater companies including The SFPlayhouse, The Actors Theater, Center Rep, Intersection for the Arts, The Phoenix Theater and Trinity Shakespeare. In 2004 The Bay Area Theatre Critics Circle awarded him for the role of "Doc Gibbs" in Our Town. In Spokane, Washington he worked with Interplayers Ensemble and received honors for his portrayals of "Uncle Peck" in How I Learned to Drive, "Nat Miller" in Ah, Wilderness!, and "Kurt Muller" in Watch on the Rhine. A former NABET grip, he worked in local television and film in the 1980's. He is a graduate of the University of North Dakota.
Gabriel Marin
This year Marin has appeared as Mitch in A Streetcar Named Desire at the Marin Theatre Company, as Daniel in the west coast premiere of David Greenspans Dead Mother at A Traveling Jewish Theatre/Thick Description, and most recently as Peter in the Bay Area premiere of Bug at the San Francisco Playhouse. Marin has appeared at A.C.T., Aurora Theatre Company, A Traveling Jewish Theatre, Actors' Gang, Bay Area Playwrights Foundation, Chicago Dramatists, Center REPertory Company, Central Works Theater Ensemble, Marin Theatre Company, The Open Fist Theatre Company, Magic Theatre, Playground, San Francisco Playhouse, Thick Description, Word for Word and Z Space Studio. Upcoming appearances include the film Opal, the narrator in the KQED documentary Paperback Dreams and in the Aurora Theatre's productions of The Devil's Disciple and Jack Goes Boating.
Lucy Gray
Dartmouth College/University of New Hampshire. Radio talk show host; commissioned, wrote and directed radio plays, Vermont Public Radio, arts commentary show, t.v. 1979 - 1981. Various jobs in independent filmmaking. Magazine profiles and reviews of films and personalities, Interview, Elle, Movieline. 1995 to present: Photographer: illustrating books, magazines and newspapers: N.Y. Times, Independent on Sunday, London. Exhibitions in galleries throughout America and online, Museum of Americas, Washington, D.C. Stills for and subject of various documentaries. Lectures and public interviews: Telluride Film Festival, Stanford University, Napa Valley Arts and Lectures. Awards: International Color Awards, Photo Review Competition, Women in Photography Intl., Photographer's of America, Communication Arts Annual Award of Excellence. Specialty in public art projects beginning with "Naming the Homeless" that first showed at Grace Cathedral in 1998. Montages made with Tilda Swinton showed on north and south faces of SF City Hall for a week in 2006. Review: Artnet, David D'arcy: "Gray's project gives the images a special radiance, not to mention the satirical kick of putting the famously androgynous Swinton on the face of an urban Mount Rushmore -- City Hall…" Vodcast show, "Lucy Talks Movies", podtech.net 2007, wrote and read scripts, interviewed and photographed people, created weekly hour show.
Jon Tracy
Director, producer, playwright and light/set/sound/combat designer with A.C.T., Aurora Theatre, Magic Thatre, S.F. Playhouse, Playground, Z Space, AlterTheatre, Woman's Will, Solano College Theatre, Traveling Lantern Theatre Company, and the San Francisco, Marin, Stinson, Napa, Lake Tahoe Shakespeare Festivals.
Joy Carlin
University of Chicago and Yale Graduate Drama School, studied with Lee Strasberg in New York. Original member of Chicago's Playwrights' Theatre. Played on and off Broadway, in television and films to the present. Acted and directed at A.C.T. since 1969. Actor and Resident Director at Berkeley Repertory Theatre 1981 - 1984, Interim Artistic Director 1983 - 1984; Associate Artistic Director of A.C.T. from 1987 - 1992. Directed plays at Aurora Theatre, Oregon Shakespeare Festival, San Jose Repertory Theater, Seattle's A Contemporary Theatre, Theatreworks, San Francisco Playhouse and Shanghai Youth Drama Troupe.
Recipient of Bay Area Critic's Circle Barbara Bladen Porter Award for continued excellence in career as actor and director.